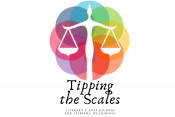 Genres Published:
Poetry, Fiction, Creative Nonfiction
Subgenres:
BIPOC Voices, Commercial Fiction, Creative Nonfiction, Cross-genre, Experimental, Feminist, Fiction, Flash Fiction, Formal Poetry, Graphic/Illustrated, Historical, Humor, Journalism/Investigative Reporting, LGBTQ Voices, Literary Fiction, Love, Micro-poetry, Narrative Nonfiction, Nonfiction, Poetry, Prose Poetry, Short Fiction, Speculative Fiction, Visual Poetry
Formats:
Web, E-publication, Print, Audio, Video
Accepts Electronic Submissions:
Accepts Simultaneous Submissions:
Accepts Unsolicited Submissions:
Editorial Focus
For lesbians, by lesbians! We would LOVE to see more lesbian fiction, flash fiction, ghost stories, poems about nature and gardens, mysteries, humour, fantasy, and more!
Tips From the Editor
Don't self reject! We can't wait to read your work.
Contact Information
Natascha and Lori Graham, Editors
Last updated: Jul 27, 2021