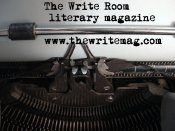 Genres Published:
Poetry, Fiction, Creative Nonfiction
Accepts Electronic Submissions:
Accepts Simultaneous Submissions:
Accepts Unsolicited Submissions:
Issue Price:
$1.99 for a KIndle, issue free online
Editorial Focus
The Write Room publishes quality works of fiction, non-fiction, memoir, and poetry from new and established writers. We are also interested in reviews, interviews, and articles of interest to writers.
Although not our main focus, we will publish literary events, competitions, and workshops.  In addition, we maintain a listing of grant opportunities and resources for writers that we deem legitimate and appropriate.
Tips From the Editor
Please, do not send us thirty plus pages of text.
Please edit your work carefully.
We do not accept previously published pieces, either online or in print.
Contact Information
Joellen Kubiak-Woodall, Editor/Publisher
Last updated: Feb 17, 2017