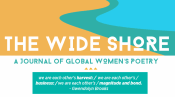 Accepts Electronic Submissions:
Accepts Simultaneous Submissions:
Accepts Unsolicited Submissions:
Editorial Focus
We are committed to publishing poetry that reveals and unearths that which has been hidden, masked, buried, or unexpressed. We invite newly translated works by women whose voices have yet to reach wider shores. The Wide Shore sets out on a course traveled by our mentors. As Gwendolyn Brooks wrote, we are each other's / harvest: / we are each other's / business: / we are each other's / magnitude and bond.
Tips From the Editor
Please read the Wide Shore before submitting. We are interesting in emerging writers from around the globe.
Contact Information
Janlori Goldman, Co-editor
Last updated: Nov 06, 2018