See writers who are published in this journal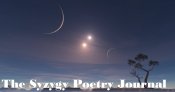 Accepts Electronic Submissions:
Accepts Simultaneous Submissions:
Accepts Unsolicited Submissions:
Editorial Focus
Syzygy Poetry is about but not quite limited to (1.) Heavenly bodies, or Astronomy. An alignment of three celestial objects,as the sun, the earth, and either the moon or a planet: Syzygy in the sun-earth-moon system occurs at the time of full moon and new moon. (2.) Classical Prosody. a group or combination of two feet, sometimes restricted to a combination of two feet of different kinds. (3.) Any two related things, either alike or opposite, as in objects in similes, metaphors, analogies. 
Tips From the Editor
While we are not exactly averse to experimental pieces, or those with weird/different constructs, please bear in mind that we are looking for poetic creations that are "simple and chaste in design, properly proclaiming its value by substance alone and not by meretricious ornamentation—as all good things should do." —O. Henry (Doutrope Editor Interview: https://duotrope.com/interview/?id=17584)
Contact Information
Emeniano Somoza, Editor At Large
Last updated: Nov 05, 2018