See writers who are published in this journal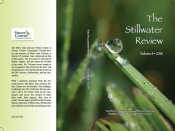 Genres Published:
Poetry, Creative Nonfiction
Accepts Electronic Submissions:
Accepts Simultaneous Submissions:
Accepts Unsolicited Submissions:
Editorial Focus
The Stillwater Review was founded back in 2010 at Sussex County Community College by poet and now retired professor Priscilla Orr and is made possible through the support of the Betty June Silconas Poetry Center. The journal maintains a dedication to the lyric poem—musicality at the heart of it, the delicate ideas at work in the layers.
Tips From the Editor
We are now only accepting electronic submissions. Please visit: http://thestillwaterreview.submittable.c...
Contact Information
D. Scott Humphries, Editor
Sussex County Community College
Last updated: Feb 21, 2020