See writers who are published in this journal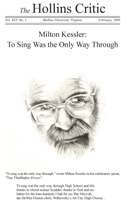 Accepts Unsolicited Submissions:
Accepts Simultaneous Submissions:
Editorial Focus
Published five times a year, The Hollins Critic has been a leading American literary journal since 1964. Each issue includes an essay on the work of a contemporary poet, fiction writer or dramatist. Issues also include an artist's cover portrait of the subject of the essay, poetry by poets.
Tips From the Editor
We accept unsolicited submissions for poetry only. The Hollins Critic Submission Manager is currently offline. We will not read poetry in 2014 and will begin reading again from September 15, 2015 to December 1, 2015.
Contact Information
Amanda Cockrell, Managing Editor
Last updated: May 18, 2022