See writers who are published in this journal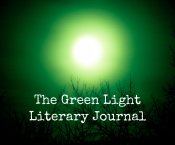 Genres Published:
Poetry, Fiction, Creative Nonfiction
Accepts Electronic Submissions:
Accepts Simultaneous Submissions:
Accepts Unsolicited Submissions:
Issues per Year:
Varies with special issues (including Halloween)
Editorial Focus
The Green Light was created by two readers–two lovers of the written word–to showcase aspiring creators, of all kinds, and share their work with the world.
Every writer starts in the same place, and they fight to be heard amongst the voices of those before them. But, with some help from a teacher, a friend, a lover, or even something within themselves, they will emerge.
For all of you artists out there looking for something more, waiting to be heard, we are your green light.
Tips From the Editor
So you want to be included in The Green Light? We recommend taking a look at some of our previous (fabulous) contributors and reading our blog! Aside from shining a light on our talented writers and photographers, we also work to shake off the dreaded writer's block with our weekly feature "Weekend Writing," a series of writing prompts perfect for getting the creative juices flowing.
Contact Information
Caitlin Bittner and Ashly Curtis, Co-Founders and Co-Editors-in-Chief
Last updated: Nov 21, 2018