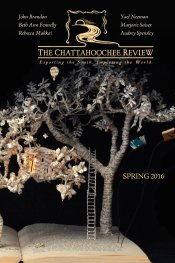 Genres Published:
Poetry, Fiction, Creative Nonfiction
Accepts Electronic Submissions:
Accepts Simultaneous Submissions:
Accepts Unsolicited Submissions:
Editorial Focus
Exporting the South. Importing the World.
Atlanta's oldest literary magazine publishing the best fiction, poetry, essays, and writing we can find. We appeal to the educated general public for our readership and over the years have expanded our focus to include international readers and writers.
Tips From the Editor
Please read our submission guidelines.
Contact Information
555 North Indian Creek Drive
Last updated: Feb 17, 2017