See writers who are published in this journal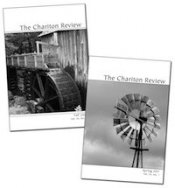 Genres Published:
Poetry, Fiction, Creative Nonfiction
Accepts Electronic Submissions:
Accepts Simultaneous Submissions:
Accepts Unsolicited Submissions:
Editorial Focus
The Chariton Review showcases work that exhibits a strong sense of the craft and conventions of poetry, fiction, and essays. It includes literature that demonstrates an active familiarity with contemporary innovations and conversations in literary writing and exhibits mindfulness of various rich traditions.
Tips From the Editor
Only accept online submissions through Submittable.
Contact Information
Barbara Smith-Mandell, Managing Editor
Last updated: Jan 08, 2019