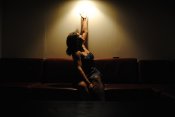 Genres Published:
Poetry, Fiction, Creative Nonfiction
Accepts Electronic Submissions:
Accepts Simultaneous Submissions:
Accepts Unsolicited Submissions:
Editorial Focus
Stirring is a monthly literary magazine that publishes poetry, short fiction, creative nonfiction, and photography. Our only stipulation is that your work resonate. Before submitting, we suggest that you read several of our recent issues to get a taste for what we like to publish.
Contact Information
Luci Brown, Managing Editor
Last updated: Feb 17, 2017