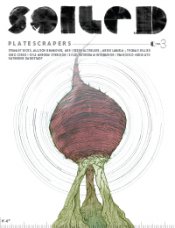 Genres Published:
Fiction, Creative Nonfiction
Formats:
Web, E-publication, Print
Accepts Electronic Submissions:
Accepts Simultaneous Submissions:
Accepts Unsolicited Submissions:
Editorial Focus
SOILED is an architectural periodical. It investigates latent issues in the built environment and the politics of space. SOILED operates at the interstices of architecture, urbanism, and the pedosphere, providing a venue for dialogue and exploration. SOILED investigates collective issues, documenting hidden systems and in-between spaces. SOILED curates ideas from the arable to the obscene, decentering the conventional categories used to define the built environment. SOILED employs narratives, manifestoes, mappings, ephemera and live events.
Contact Information
Joseph Altshuler, Editor-in-Chief
Last updated: Nov 03, 2017