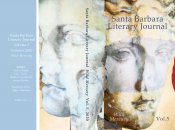 Accepts Unsolicited Submissions:
Accepts Simultaneous Submissions:
Editorial Focus
Santa Barbara Literary Journal considers all kinds of fiction, flash, and poetry, and have a soft spot for fantasy, science fiction, experimental, funny, and quirky work. 
Tips From the Editor
The best advice I can give a writer on submitting is to make sure that you've had your story critiqued by a writing group. You'd be surprised how often writers skip this step. Have it critiqued, revise it, polish it, and let it sit for a few weeks. After all of that, when you're happy with it, send it out to journals. Every time I open a submission, I am hoping that it will be marvelous. So check for typos, use standard submission format, and send us your best work! I look forward to reading it.  
Last updated: Aug 24, 2022