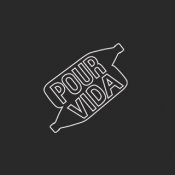 Genres Published:
Poetry, Fiction, Creative Nonfiction
Accepts Electronic Submissions:
Accepts Simultaneous Submissions:
Accepts Unsolicited Submissions:
Editorial Focus
Pour Vida was established in the fall of 2013 by writers and friends, Adam and Danny, during their time in grad school, as a platform to foster a writerly community. The intention with Pour Vida zine is to help foster writers' experiences of publishing and the process of submitting and workshopping. This zine is about helping writers polish and be proud of their voices so please, don't think about it too much. Just submit!
Tips From the Editor
Writing: Poetry - 5 max; Fiction/creative non-fiction - 1,500 words max. .doc. Images: High-res .jpg (preferably B&W). SUBMIT: pourvidazine@gmail.com Subject: Genre & title of work. Body: Brief bio/social media. DON'T PASTE WORK IN BODY. Allow 3-6 months for response. Submit only ONCE per issue. Follow: twitter: @pourvidazine, instagram: pour_vida, faceboook: @PourVida, issuu.com/pourvida
Last updated: Apr 26, 2019