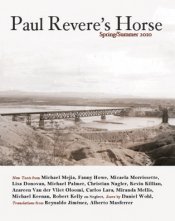 Genres Published:
Poetry, Fiction, Creative Nonfiction
Accepts Electronic Submissions:
Accepts Simultaneous Submissions:
Accepts Unsolicited Submissions:
Editorial Focus
Paul Revere's Horse is a print journal that publishes exploratory prose and poetic texts, translations, poetic reclamation projects, interviews, and other literary investigations.
Tips From the Editor
Paul Revere's Horse has very specific textual interests. It would be extremely useful for writers interested in submitting to Paul Revere's Horse to first read a copy of the journal to see if his or her work would be a good fit.
Last updated: Feb 17, 2017