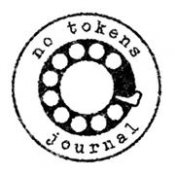 Genres Published:
Poetry, Fiction, Creative Nonfiction
Accepts Electronic Submissions:
Accepts Simultaneous Submissions:
Accepts Unsolicited Submissions:
Editorial Focus
No Tokens is a biannually published journal celebrating work that is felt in the spine. We are run entirely by women and non-binary individuals, dedicated to featuring the words and artwork of all voices of the past, present, and future. We are here to keep stories alive. We are here to make a physical object to hold in your hands. We are paying attention.
Contact Information
T Kira Madden, Editor-in-Chief
Last updated: Aug 31, 2018