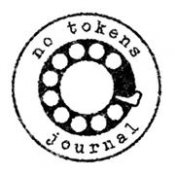 Genres Published:
Poetry, Fiction, Creative Nonfiction
Accepts Unsolicited Submissions:
Accepts Simultaneous Submissions:
Editorial Focus
No Tokens is a journal celebrating work that is felt in the spine. We are run entirely by women, queer, trans, and non-binary individuals, dedicated to featuring the words and artwork of all voices of the past, present, and future. We are here to keep stories alive. We are paying attention.
Contact Information
T Kira Mahealani Madden, Editor-in-Chief
Last updated: Aug 09, 2020