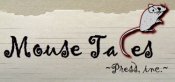 Formats:
Web, E-publication, Print
Accepts Electronic Submissions:
Accepts Simultaneous Submissions:
Accepts Unsolicited Submissions:
Editorial Focus
Mouse Tales Press was started as a place where new writers would feel comfortable submitting their work. However, we also publish work from established writers. We especially enjoy humorous and/or experimental works.
Tips From the Editor
(UPDATED February 5, 2016) Please note that we are currently closed to submissions.
Contact Information
Linda Hatton, Managing Editor
Last updated: Oct 16, 2017