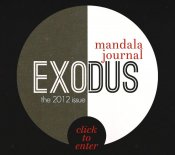 Genres Published:
Poetry, Fiction, Creative Nonfiction
Accepts Electronic Submissions:
Accepts Simultaneous Submissions:
Accepts Unsolicited Submissions:
Editorial Focus
Mandala is a word which means 'circle' in Sanskrit. Mandala is a circle which holds the universe. Mandala is a journal of art and literature published each spring by the University of Georgia's Institute for African American Studies. We publish art, fiction, nonfiction, and poetry. We are a platform for explorations of race, gender, culture, and identity, and for a wide range of voices and experiences, and to that end, we publish all kinds - students and professors, dilettantes and old hands, Pushcart Prize winners and schoolkids, from our hometown of Athens, GA, and points beyond.
Tips From the Editor
We highly recommend that you peruse our current and archived issues before submitting. Please do not send work to our Gmail address; we only review work sent to our Submittable account.
Contact Information
Nikki Smith, Editor-in-chief
312 Holmes/Hunter Academic Building
Last updated: Feb 17, 2017