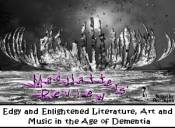 Genres Published:
Poetry, Fiction, Creative Nonfiction
Accepts Electronic Submissions:
Accepts Simultaneous Submissions:
Accepts Unsolicited Submissions:
Editorial Focus
Collaborative, edgy, experimental, provocative, playful, lyrical, jazzy, maximalist. We publish poetry, fictions, whatnots, collages, mini-movies, cartoons, columns, dramas, art galleries, music, and recitations.
Tips From the Editor
We love risky, fresh writings with rhythm and song. No deadpan serious pieces about divorces, sports, coming of age, and family deaths. Think Carroll, Barthelme, Beckett, DeLillo, Stein & David Lynch. Note: Frequency of publication is in flux at present. Please read the guidelines to find out if we're open to submissions.
Last updated: Nov 20, 2018