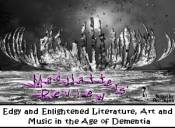 Genres Published:
Poetry, Fiction, Creative Nonfiction
Accepts Electronic Submissions:
Accepts Simultaneous Submissions:
Accepts Unsolicited Submissions:
Editorial Focus
Collaborative, edgy, experimental, provocative, playful, lyrical, jazzy, maximalist. We publish poetry, fictions, whatnots, collages, mini-movies, cartoons, columns, dramas, art galleries, music, recitations.
Tips From the Editor
We love risky, fresh writings with rhythm and song. No deadpan serious pieces about divorces, sports, coming of age, & family deaths. Think Carroll, Barthelme, Beckett, DeLillo, Stein & David Lynch. NOTE: FREQUENCY OF PUBLICATION IS IN FLUX AT PRESENT. PLEASE READ GUIDELINES TO FIND OUT IF WE'RE OPEN TO SUBMISSIONS. THANKS!
Contact Information
http://www.madhattersreview.com
Last updated: Oct 12, 2017