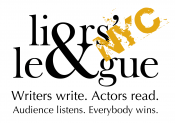 Accepts Electronic Submissions:
Accepts Simultaneous Submissions:
Accepts Unsolicited Submissions:
Editorial Focus
Liars' League NYC is a regular literary event featuring original short stories performed by professionally trained actors. Selected stories are published on our website, performed live, and available as a free podcast. Our aim is simply to bring the very best new fiction to life for one of the most discerning literary audiences in the world.
Tips From the Editor
Liars' League NYC looks for fresh, original, emotionally engaging fiction—stories that make us think, laugh, cry, or just leave us speechless. We tend to favor character-driven stories, and look for a sense of character development arising from situation or circumstance. We're open to all genres, but we'd suggest avoiding the following: reworked fairy tales; stories featuring personifications of concepts (Love, Death, Fate etc); reworked Bible stories; stories about writers or writing; writing about heaven or hell, gods or devils. We also look for stories with a sense of an ending – "lack of an ending" is one of our most common notes.
Last updated: Dec 11, 2018