See writers who are published in this journal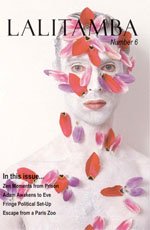 Genres Published:
Poetry, Fiction, Creative Nonfiction
Accepts Electronic Submissions:
Accepts Simultaneous Submissions:
Accepts Unsolicited Submissions:
Editorial Focus
Lalitamba is a contemporary journal of international writings for liberation. From page to page, you'll find the writings of saints, wanderers, prison inmates, and award-winning novelists. These are the mystics of our time. They challenge us to live and to love without hesitation. Lalitamba was inspired by a pilgrimage through India. In early 2004, we traveled from village to village, seeking to alleviate the suffering of poverty, illness, and plain loss of hope. The name of the journal comes from a devotional song. It means Divine Mother.
Contact Information
Shyam Mukunda, Managing Editor
Last updated: Dec 05, 2018