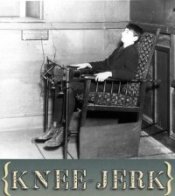 Genres Published:
Fiction, Creative Nonfiction
Accepts Electronic Submissions:
Accepts Simultaneous Submissions:
Accepts Unsolicited Submissions:
Editorial Focus
We are looking for fiction and creative nonfiction that is difficult to define—-the more you blur the line, the better. We consider any prose that is smart, illuminating, experimental, and/or funny. We accept queries for interviews with writers and artists of any medium. In our Reviews of Things section, writers can review practically anything, so long as their review is somewhat humorous and speaks to a deeper aspect of truth.
Tips From the Editor
Before submitting your work, please become familiar with the magazine. We prefer stories that contain fewer than 3,000 words, but will consider longer stories (absolutely no more than 5,000) if you are confident that the story will blow our minds. We accept submissions via email (attached as .doc file) or singing telegram only; all work should be sent to submissions@kneejerkmag.com. No multiple submissions. Please double-space your manuscripts and avoid FancyFonts. Or glitter. Yes! We do accept simultaneous submissions, but only if you promise to inform us if your story is accepted elsewhere. We promise to be excited for you. Please don't inquire about the status of your submissions.
Last updated: Oct 11, 2017