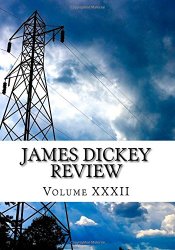 Genres Published:
Poetry, Creative Nonfiction
Accepts Electronic Submissions:
Accepts Simultaneous Submissions:
Accepts Unsolicited Submissions:
Editorial Focus
Formerly the James Dickey Newsletter, the James Dickey Review is published yearly and is catalogued in the Library of Congress. The journal invites submissions of poetry, creative nonfiction (including Dickey reminiscences), scholarly articles, interviews, and book reviews. Of particular interest is work pertaining to the South and Appalachia. It need not be about the writer James Dickey.
Tips From the Editor
Submit your work in an email (both in-text and as a Word or RTF attachment) to: JamesDickeyReview@reinhardt.edu. Scholarly articles should follow MLA format. Payment for accepted work is one copy of the issue. Creative nonfiction (5,000 words or less) Scholarly articles (5,000 words or less) Poems (send no more than 3 at a time) Book Reviews (500 words or less)
Contact Information
Maria Klouda, Copy Editor & Social Media Manager
Last updated: May 12, 2017