See writers who are published in this journal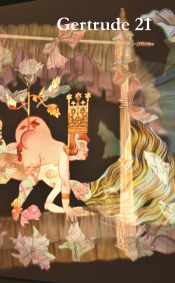 Genres Published:
Poetry, Fiction, Creative Nonfiction
Accepts Electronic Submissions:
Accepts Simultaneous Submissions:
Accepts Unsolicited Submissions:
Editorial Focus
Gertrude is the biannual arts and literary publication of Gertrude Press, a nonprofit 501(c)3 organization showcasing and developing the creative talents of lesbian, gay, bisexual, trans, queer-identified, and allied individuals. 
Tips From the Editor
Gertrude accepts manuscripts from new and established writers and artists. Subject matter need not be LGBTQA-specific and we welcome writers and artists from all backgrounds. We accept simultaneous submissions with notification. We do not accept previously published work.
Last updated: Oct 02, 2017