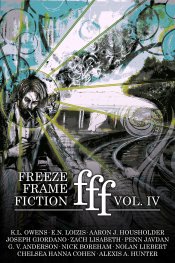 Accepts Unsolicited Submissions:
Accepts Simultaneous Submissions:
Issue Price:
Free to read for three months, then $2.99 for the ebook
Editorial Focus
Freeze Frame Fiction is a quarterly flash fiction publication. The idea: any genre, no content restrictions—just good flash fiction. We pay authors semi-pro rates to publish online and in illustrated ebooks, with an annual print volume in the works. Pieces remain online for three months, and are then published in illustrated ebooks, released at the start of the next quarter. We also publish semi-annual themed volumes, with themes such as experimental-form flash fiction. We aim to represent both new and established authors.
Tips From the Editor
freeze frame fiction is looking for stories that stick with you, despite how short they are. We want to showcase just how powerful flash fiction can be. We want developed characters and interesting plots. One thing we're not looking for is vignettes: all stories must be complete stories, even if the ending is left open to the reader's interpretation.
Contact Information
Dino Laserbeam, Editor-in-chief
Last updated: May 13, 2022