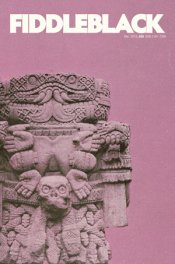 Accepts Electronic Submissions:
Accepts Simultaneous Submissions:
Accepts Unsolicited Submissions:
Editorial Focus
We operate under a well-defined mission statement to serve the interests of our audience. Simply, we appreciate certain aesthetics.
Our body of work is built from transgressive stories with a strong sense of self and place. We believe in mature cultural investigation. We sometimes look to the genre of horror for reference, through the lenses of metamodernism and neurosis.
Our reading time is long and our selection process is fine, but we believe Fiddleblack is a kind of world's end community, and our published contributors are encouraged to reappear.
Contact Information
Jason Cook, Founding Editor
Last updated: Feb 17, 2017