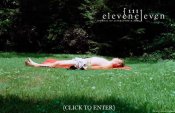 Genres Published:
Poetry, Fiction, Creative Nonfiction
Accepts Electronic Submissions:
Accepts Simultaneous Submissions:
Accepts Unsolicited Submissions:
Subscription Price:
$50 for five print issues
Editorial Focus
Eleven Eleven is a biannual journal of literature and art based at California College of the Arts. The aim of the publication is to provide a forum for risk and experimentation and to serve as an exchange between writers and artists.
Tips From the Editor
We're looking for writing that pops.
Contact Information
Hugh Behm-Steinberg, Faculty Editor
California College of the Arts
Last updated: Feb 17, 2017