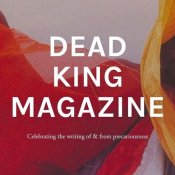 Genres Published:
Poetry, Fiction, Creative Nonfiction
Accepts Electronic Submissions:
Accepts Simultaneous Submissions:
Accepts Unsolicited Submissions:
Editorial Focus
We prioritise & showcase the work of writers who have experienced or continue to experience precariousness.
Tips From the Editor
Please include a short bio with your submission. If you've been published, great! we're chuffed for you. If you're unpublished, let's hear it! Tell us anything you like. Unfortunately, at the moment we are only able to accept submissions in English. Please submit text documents in .doc / docx / rtf / odt form only. Please only submit one piece of prose or non-fiction writing to us.
Last updated: Sep 28, 2017