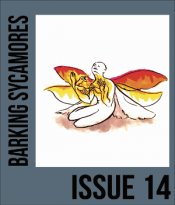 Genres Published:
Poetry, Fiction, Creative Nonfiction
Accepts Electronic Submissions:
Accepts Simultaneous Submissions:
Accepts Unsolicited Submissions:
Editorial Focus
Barking Sycamores is a literary journal in the Autonomous Press family. Our mission is to publish poetry, short fiction (1,000 words or less), creative non-fiction (beginning Issue 8), hybrid genre work, and artwork by neurodivergent writers. We also accept reviews (1,000 words or less) on books by neurodivergent authors or featuring neurodivergent characters and themes.
Tips From the Editor
Please read our submission guidelines to understand the philosophy of our journal before submitting.
Last updated: Mar 08, 2018