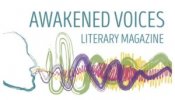 Genres Published:
Poetry, Fiction, Creative Nonfiction
Accepts Unsolicited Submissions:
Accepts Simultaneous Submissions:
Editorial Focus
We publish 2x/year in prose, poetry, visual, and hybrid. Our mission is to support the artistic expression of survivors of sexual violence. We are open to submissions from people who do not identify as survivors as long as pieces support our mission.
Tips From the Editor
We encourage writers to proofread their work or have someone proofread their work before sending to us. 
Contact Information
Abby Mros, Programming Assistant
Last updated: May 27, 2021