See writers who are published in this journal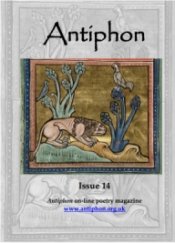 Accepts Electronic Submissions:
Accepts Simultaneous Submissions:
Accepts Unsolicited Submissions:
Editorial Focus
Antiphon Poetry Magazine provides an online showcase for British and international contemporary poetry. Now in our fourth year, we also publish reviews of new books and pamphlets from the major publishers and small presses, and articles about aspects of poetry.
Tips From the Editor
We're friendly to any excellent poetry, metrical or non-metrical, that pays attention to sound, rhythm, image, metaphor. Surprise us with something exciting and unusual! Please follow the submission guidelines.
Last updated: Feb 17, 2017