See writers who are published in this journal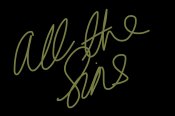 Genres Published:
Poetry, Fiction, Creative Nonfiction
Subgenres:
Autobiography/Memoir, Cross-genre, Experimental, Feminist, Flash Fiction, Formal Poetry, Graphic/Illustrated, Historical, Humor, Journalism/Investigative Reporting, LGBTQ Voices, Literary Fiction, Micro-poetry, Narrative Nonfiction, Nature/Environmental, Political, Pop Culture, Prose Poetry, Regional, Translation, War
Accepts Unsolicited Submissions:
Accepts Simultaneous Submissions:
Editorial Focus
All the Sins is a quarterly digital magazine that encourages writers and artists to have courage and to sin against staid storytelling. The magazine was "conceived as a blend of visual, digital and written art that takes storytelling to new limits, asks questions and explores the worlds in which art is made. Responses, challenges and reinventions welcome. We also publish regular features on arts-related topics and encourage submissions for these."
Tips From the Editor
We are particularly interested in work that uses the internet and digital media for the opportunities they present. By 'sinful' we mean art that represents voices and stories that have not traditionally been represented in literary arts magazines—we don't mean erotica, though sex may have a role to play in a given work.
Last updated: Feb 02, 2022