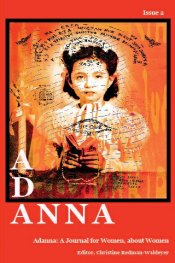 Genres Published:
Poetry, Fiction, Creative Nonfiction
Accepts Electronic Submissions:
Accepts Simultaneous Submissions:
Accepts Unsolicited Submissions:
Editorial Focus
Adanna, a name of Nigerian origin, pronounced a-DAN-a, is defined as "her father's daughter." Women over the centuries have been defined by men in politics, through marriage, and most importantly, by the men who fathered them. Women are still bound by complex roles in society, often needing to wear more than one hat or sacrifice one role so another may flourish. While this journal is dedicated to women, it is not exclusive, and it welcomes our counterparts and their thoughts about women today. Submissions should reflect women's issue or topics, celebrate womanhood, or shout out in passion.
Tips From the Editor
We only publish work that focuses on women's topics or issues. Work on general topics by women are not considered for the issue.
Contact Information
Christine Redman-Waldeyer, Founder
Last updated: Feb 17, 2017