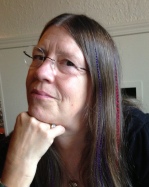 Publications and Prizes
Books:
How I Learned to Be White
,
Ocean's Laughter
Journals:
Every Day Poets
,
Glass: A Journal of Poetry
,
Hamilton Stone Review
,
Literary Mama
,
Sliver of Stone
,
Up the Staircase Quarterly
Chapbooks:
Urban Wild
(
Finishing Line Press
,
2014
)
Prizes Won:
How I Learned To Be White (Antrim House) received the Gold Prize for Motivational Poetry in the 2018 Human Relations Indie Book Prize. Knoll's work has received 8 Pushcart nominations.
Personal Favorites
Favorite Books:
Poetry collections by Vermont poets.
Reviews, Recordings, and Interviews
More Information
Identifies as:
Feminist, German American
Prefers to work with:
Adults, Homeless people, Naturalists/Environmentalists, People with Disabilities, Teachers
work_excerpt:
Links to dozens of Knoll's poems published online are available on her website: triciaknoll.com .
Last updated: Feb 06, 2019