P&W-supported writer Emily Rubin, author of Stalina and winner of the Sarah Verdone Writers Award, was recently profiled in Women You Should Know. She leads workshops for cancer patients, survivors, and caregivers at the Beth Israel Medical Center in New York City (see video here). We asked her to blog about the experience.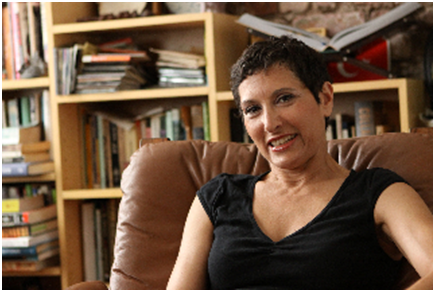 The flyers stated it simply:
Creative Writing Workshop
FOR CANCER PATIENTS, SURVIVORS, & CAREGIVERS
Mondays March 25, April 1, 8, 15, 22
This workshop will be led by Emily Rubin, a cancer survivor and author.

I started the workshops at Beth Israel Medical Center with the idea of giving something back to the hospital where I received treatment for breast cancer in 2008/9. As magnanimous as this might sound, I also had a subversive, experimental angle in mind. I wanted to offer an escape from cancer—a radical and fun alternative to the chemotherapy suite, radiation tables, and waiting rooms—even if it was only for a couple of hours a week.

While I was in treatment, my writing took a back seat to the rigors of the disease. My sparse diary entries ran the gamut of:  
January 28th. Cancer sucks. 
February 15th. Cancer really sucks. 
March 10th. I look like a freak.  
April 15th. Being bald (COMPLETELY!) is cool, but cancer still sucks. 
May 20th. Today a guy with a shaved head fist bumped me on a subway platform.

I consider myself lucky. My treatment was fairly standard for breast cancer: surgery, chemotherapy, and radiation. There was a very good chance all would be fine, and fortunately, so far, it is. But during that time I met many who were not so lucky. A good friend, Anne Childers, was diagnosed with cervical cancer. We were cancer "sisters" and found ourselves often pushed to edges of anger, fear, and frivolity. Her cancer took a terrible turn, and after a year of treatment Anne died with her family and boyfriend at her side. She was thirty-two years old. She may not be a survivor of the disease, but she survives within everyone who knew her.

After that I'd had enough of the disease, needed to distance myself from it, and get back to my life. I finished my first novel and found a publisher. At readings and in interviews, I never mentioned my illness as part of the journey to being published. But a nerve-wracking recurrence scare (fortunately negative) made me realize that cancer had left its mark, and I would be unwise to ignore the impact it had on my life. 

I explained to the six brave souls who turned out for the first workshop that the anxiety, fear, physical and psychological pain, passion, vulnerability, and fighting spirit they experienced in and around the illness would serve them well as writers. Being human is also a good qualification, but I encouraged them by saying they might have a slight edge over the rest of the species. 

I bring prompts, quotes, and photographs to inspire our writing sessions, which have been supported by funds from Poets & Writers, Lower Manhattan Cultural Council, and New York Community Trust. I encourage everyone to go as deep into the illness, or as far away from it, as they desire. The main thing is they have complete control over what they write. Everyone writes for thirty minutes around a common table.    

After receiving some bad news about her diagnosis, Caroline wrote about this photograph of lightning over New York: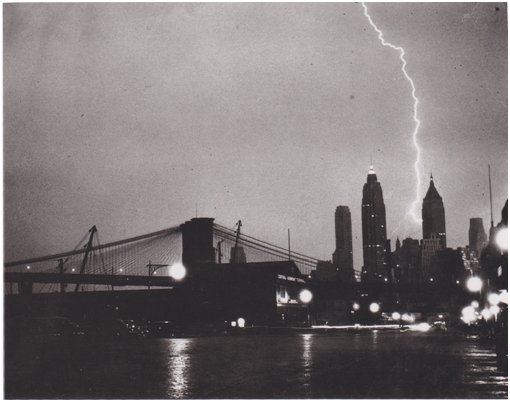 Lightning knows no mercy. She strikes with precision and ruthlessness. Her skill is almost surgical, and yet catastrophic in her damage….Where is my agency in all this? Where are my thunderbolts? Oh that I had a quiver full of them like the Greek god Zeus that I could grab and hurl at the demons that now beset me. I need Hephaestus to smith them out for me with his band of mighty Cyclops—electric blue and pink bolts to counteract and heal the damage that these new blasts have done to me. Oh Prometheus, bring them gently to me with a bow of gold that I might take sure and steady aim.

Belinda was taken with a photograph of a giant chessboard, below:

I was just about to give up when Hamilton suggested we take a walk outside. We had been at the table for hours, it was a blur of posturing rhetoric and uncertainty so frustrating…. As I looked at the knight shamefully, I felt something trickle down the side of my face, something warm and slow, blood splattered onto the black and white square, it reminded me of snowflakes as my brain tried to take me home in my last moments. Peace process over in one move. 


Other prompts include:

--An experience with an insect.
--The coldest day.
--A time you did something dangerous.
--The worst advice you ever gave, or got.
--Someone or something you find annoying.

There is no bullshit with these folks. They don't sweat the small stuff. They get right to it. As a result, the writing is fiercely honest and lyrical.

Photos: Top, Emily Rubin (credit: Billy Tompkins). Middle: Lightning (credit: Weegee). Bottom: Chess Game (Erika Stone).
Emily Rubin can be reached at emrubin@earthlink.net. Support for Readings/Workshops in New York City is provided, in part, by public funds from the New York State Council on the Arts and the New York City Department of Cultural Affairs, with additional support from the Louis & Anne Abrons Foundation, the Axe-Houghton Foundation, The Cowles Charitable Trust, the Abbey K. Starr Charitable Trust, and the Friends of Poets & Writers.