POST-APRIL POETRY
Although National Poetry Month is over—and with it the zenith of the year's poetry book production—noteworthy poetry collections have been published since April, including those by a Pulitzer Prize winner, a Cave Canem Poetry Prize winner, and a National Book Award finalist, among others.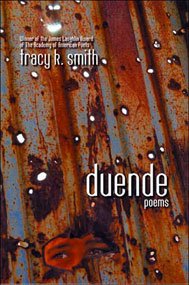 Marvin Bell published more than a dozen books of poetry while he served on the faculty of the Iowa Writers' Workshop—a teaching career that lasted for forty years. Mars Being Red (Copper Canyon Press, July) is Bell's first collection since his retirement in 2005. Touted as his most political book, the collection does include poems that tackle such subjects as the war in Iraq, as in "Deadline" ("How deep can our feelings go when the airwaves / rain bodies and the camera pans in focus / the urban homeless in a shower of fast film?"), but Bell also includes a smattering of new "Dead Man" persona poems, for which he was known in the 1990s.
Selected by Adrienne Rich as winner of the 2006 Barnard Women Poets Prize, Cathy Park Hong's second poetry collection, Dance Dance Revolution (Norton, May), offers a unique reading experience, to say the least. Set in a fictional resort city of the future called the Desert, the poems follow a character named the Guide—who survived the Kwangju uprising, in which the U.S.-backed Korean government killed pro-democracy protesters in 1980, and speaks a wholly invented dialect—as she befriends the Historian, who speaks traditional English. "It makes a reader feel and think simultaneously," Rich wrote of Hong's book in her award citation, "and rather than implying a nihilistic or negative vision of the future, it leaves this reader, at least, revitalized."
Last year, Carl Phillips won the twenty-five-thousand-dollar Academy of American Poets Fellowship, awarded annually to a poet for distinguished poetic achievement at midcareer. Quiver of Arrows: Selected Poems 1986–2006 (Farrar, Straus and Giroux, May) provides a good look at that career, offering a selection—eight to fifteen poems—from each of his eight books, allowing the reader to experience the evolution of the poet's self-assured voice. From his first volume, In the Blood, published in 1992, when he was in his early thirties, to The Rest of Love, a finalist for a National Book Award in 2004, to last year's Riding Westward, Phillips has continued to explore themes of erotic love, myth, and loss.
In her second book, Duende (Graywolf Press, June), the winner of the Academy's James Laughlin Award, Tracy K. Smith takes Federico García Lorca's idea of the dark and elusive force that artists seek to channel as the thematic structure for such poems as "History" ("This is a poem about the itch / That stirs a nation at night") and "Flores Woman" ("Like a dark star. I want to last"). Smith's first book, The Body's Question, praised by David Barber for its "charged air of rapt apprehension" in the New York Times Book Review, was selected by Kevin Young as the winner of the 2002 Cave Canem Poetry Prize.
A poet who wins the Pulitzer Prize can expect not only sales of the winning book to skyrocket, but also interest in his earlier works—the poetry collections preceding the prestigious prizewinner that would otherwise fall out of print and be largely forgotten. Just ask Franz Wright, who won a Pulitzer for his 2003 collection Walking to Martha's Vineyard. Earlier Poems (Knopf, May) collects his first four books, beginning with the 1982 volume, The One Whose Eyes Open When You Close Your Eyes, which was published when he was twenty-eight, just two years after the death of his father, James Wright. Readers who know the poet only through his more recent books will discover the more somber origins of Wright's work.