Louisiana poet Dennis Formento lives in Slidell, Bayou Bonfouca watershed, with his wife Patricia Hart, an artist and yogini. He has been published in the Lummox Poetry Anthology (Lummox Press, 2014), the Maple Leaf Rag V (Portals Press, 2014), and on the blog Water, Water Everywhere. Formento's latest book is Cineplex (Paper Press, 2014). He teaches English at Delgado Community College and is New Orleans's coordinator for 100 Thousand Poets for Change, a worldwide movement for peace and sustainability.
Poet and translator El Habib Louai, a resident of Agadir, Morocco, performed with a killer band of free jazz all-stars in a show produced by Surregional Press of Slidell, Louisiana. Poets & Writers partially funded the performance, which took place on July 31 at the Zeitgeist Theater in New Orleans.
While emigration proceedings in Canada prevented one member of Louai's Neo-Beat Amazigh Band from arriving in New Orleans, and another member remained in New York City, Louai played on. He was backed by Ray Moore (saxes and flute), Jeb Stuart (acoustic bass), Will Thompson (keyboards), and Dave Cappello (drums). Louai also read from his book Mrs. Jones Will Now Know: Poems of a Desperate Rebel (Paper Press, 2015).
About fifty-five people attended at Zeitgeist Multidisciplinary Art Center on Oretha Castle Haley Boulevard in the Central City neighborhood. Central City is downtown, and O. C. Haley was the main stem of African American business in town decades ago, before much business was diverted to the Canal Street district. Zeitgeist, its neighboring art center, the Ashé Center, and the now shuttered Neighborhood Gallery, came to O. C. Haley in the early aughts, spearheading a revitalization of the area.
Louai captured a diverse audience: Arab students from the University of New Orleans, African American and white scholars, and poets from various scenes around town. A "welcoming committee" of local writers began the session with poems of their own: Valentine Pierce, Scott Nicholson (backed by Will Thompson), Andrea Young and husband, Khaled Hegazzi—whose contribution was a handful of translations of contemporary Egyptian poets—and Jessica Mashael Bordelon. I joined in, reading a portion of Allen Ginsberg's "America" before Louai's translation into Arabic of that famed satire.
Andrea Young said she was gratified that poetry in Arabic and English had finally found a crossroads in the Crescent City. She and her husband publish a magazine called Meena, from their homes in New Orleans and Alexandria, Egypt.
The performance not only brought to the city Louai's translations from the New American poetry and Beat traditions, but also helped open cultural dialogue and exchange. It's been hard to find Arab poets and literati in New Orleans, despite the fact that it is home to thousands of Arabs, some of whom have had family here for decades.
Louai visited a number of poetry venues in the two weeks that he spent at my house in Slidell: the Tekrema Center for Art and Culture in the Lower Ninth Ward of New Orleans; the famed Maple Leaf Bar Everette Maddox Memorial Reading; and a meeting of the St. Tammany Parish group, 100 Thousand Poets for Change: Northshore. He went on radio: Rudy Mills's Gumbo Tapado Show on WBOK-AM and WWOZ-FM's "World Journey" program with Suzanne Corley. On August 1, Louai performed at Fair Grinds Coffee House, accompanied on djembe, tambourine, and castanets by poet/percussionist Gamma Flowers and myself. Finally, he played a house concert at my place with backing by Jeb Stuart on bass—a first in Slidell.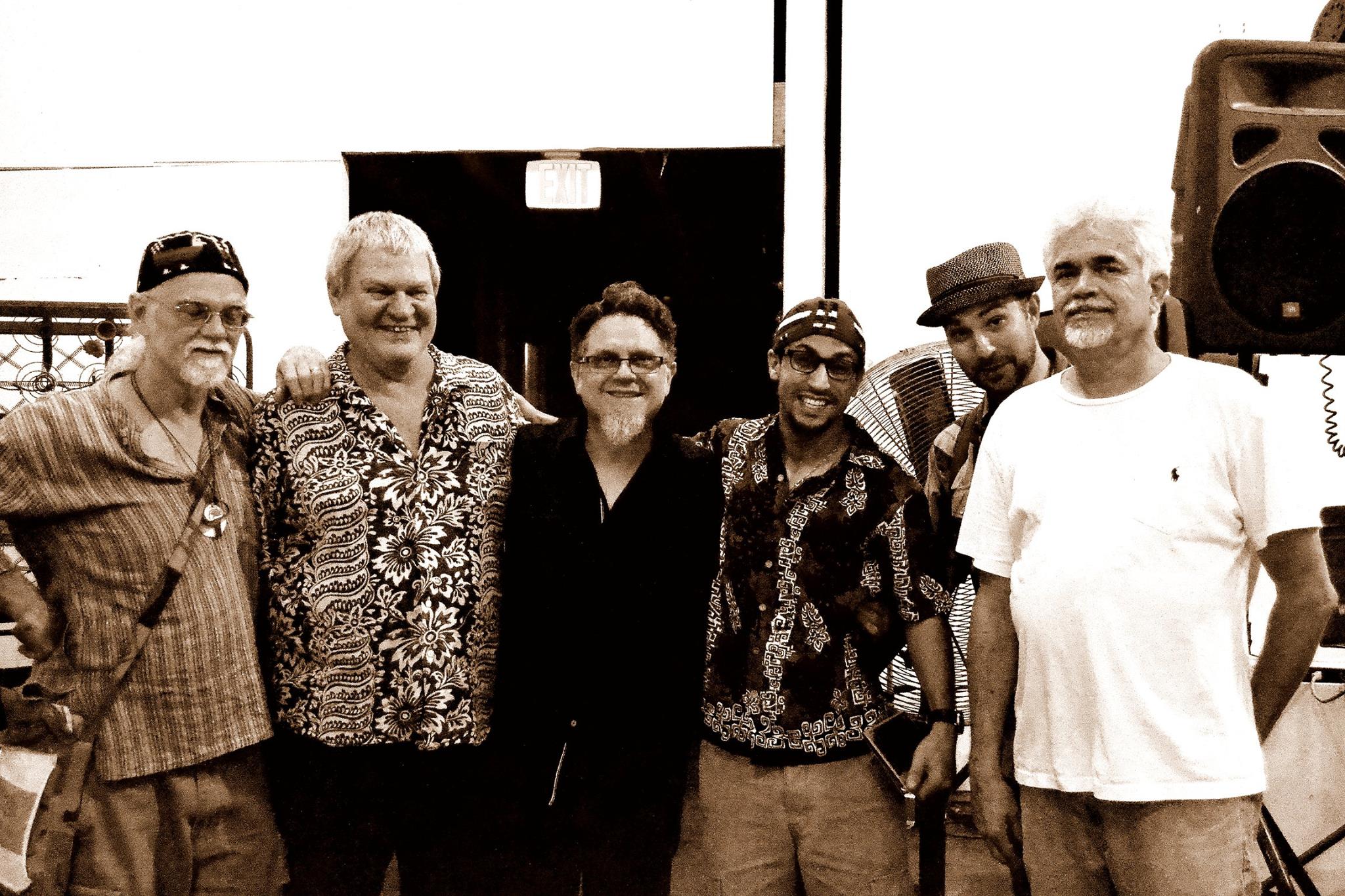 Photo (top): Louai, Moore, and Cappello. Photo Credit: El Habib Louai.
Photo (bottom): Louai and band. Photo Credit: El Habib Louai.
Support for Readings & Workshops events in New Orleans, Lousiana is provided by an endowment established with generous contributions from the Poets & Writers Board of Directors, and others. Additional support comes from the Friends of Poets & Writers.