In his conversation with William Giraldi, whose memoir, The Hero's Body, was published in August by Liveright, Sven Birkerts talks about memoir as a kind of mirror. "We look into it not necessarily to see ourselves, but to renew in ourselves the narrative understanding, that very strange idea that for all the seeming chaos of the day to day, there is a story being told, and that the recognition of that is the point of it all." Below are nine more new memoirs by writers who have looked into that mirror and found a story to tell.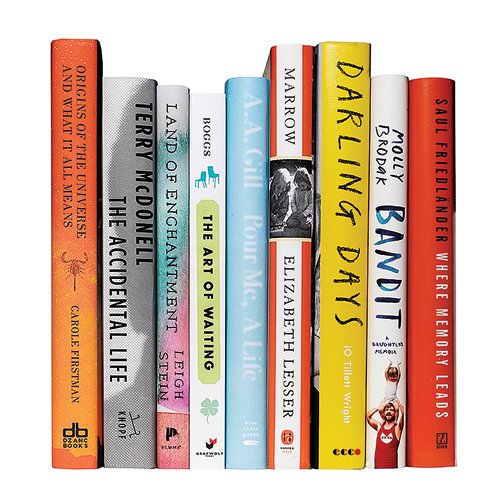 Origins of the Universe and What It All Means (Dzanc Books, August) by Carole Firstman
Combining evolutionary research with travel narratives and childhood memories, Carole Firstman reflects on her distant relationship with her father, an eccentric but skilled biology professor. This formally innovative memoir investigates both the origins of the father-daughter dynamic and the evolution of life on Earth.
The Accidental Life: An Editor's Notes on Writing and Writers (Knopf, August) by Terry McDonell
Over the last four decades, Terry McDonell has been at the helm of thirteen magazines, including Rolling Stone and Esquire, working with Hunter S. Thompson, Kurt Vonnegut, and others. In a series of sharp vignettes, McDonell takes readers behind the scenes of the publishing world to reveal the humorous and at times difficult relationships between writers and their editors.
Land of Enchantment (Plume, August) by Leigh Stein
After her ex-boyfriend dies in a motorcycle accident, Leigh Stein wrestles with the complicated emotional impact of his destructive love. Set against the stark and surreal landscape of New Mexico, the "Land of Enchantment," this lyrical debut navigates the complex cycle of an abusive relationship.
The Art of Waiting: On Fertility, Medicine, and Motherhood (Graywolf Press, September) by Belle Boggs
A meticulous investigation of the complicated sociopolitical issues surrounding fertility, infertility, and medical intervention, this memoir blends personal experience with cultural inquiry. Belle Boggs looks to history, literature, and firsthand accounts to create a meaningful meditation on the many paths to making a family.
Pour Me a Life (Blue Rider Press, September) by A. A. Gill
Restaurant critic and London Sunday Times journalist Adrian Gill pieces together the physical and emotional destruction wrought by years of alcoholism. Sincere and wry, with a touch of Englishman's wit, Gill's powerful account of addiction and recovery demonstrates, without preaching, the possibility of a life transformed.
Marrow: A Love Story (Harper Wave, September) by Elizabeth Lesser
Best-selling author Elizabeth Lesser narrates the year following her sister's cancer diagnosis and subsequent bone-marrow transplant. This profound memoir traces the love between two sisters as they travel together through "thickets of despair and hope," their bond deepening beneath the bone to the "soul's marrow."
Darling Days (Ecco, September) by iO Tillett Wright
The child of a showgirl, gender-defying writer and artist iO Tillett Wright spent his early years on the gritty streets of downtown New York City in the 1980s. Those experiences form the foundation of a visceral examination of counterculture, identity, gender, and familial bonds. Wright's unique voice shines and sears in this candid memoir of a young person in search of an authentic self.
Bandit: A Daughter's Memoir (Black Cat, October) by Molly Brodak
Labeled the "Mario Bros. Bandit" by the FBI, poet Molly Brodak's father robbed eleven banks when she was thirteen years old. With unwavering patience, the author attempts to reconcile her childhood memories of a man with many secrets and his fracturing impact on her family.
Where Memory Leads: My Life (Other Press, November) by Saul Friedländer
Forty years after the publication of his acclaimed first memoir, When Memory Comes, Pulitzer Prize–winning Holocaust historian Saul Friedländer revisits his formative years in France, Israel, and the United States, and the harrowing events that influenced his studies of Jewish life and history.