Today the National Book Foundation wrapped up its longlist announcements for the 2016 National Book Awards in the categories of poetry, fiction, creative nonfiction, and young people's literature.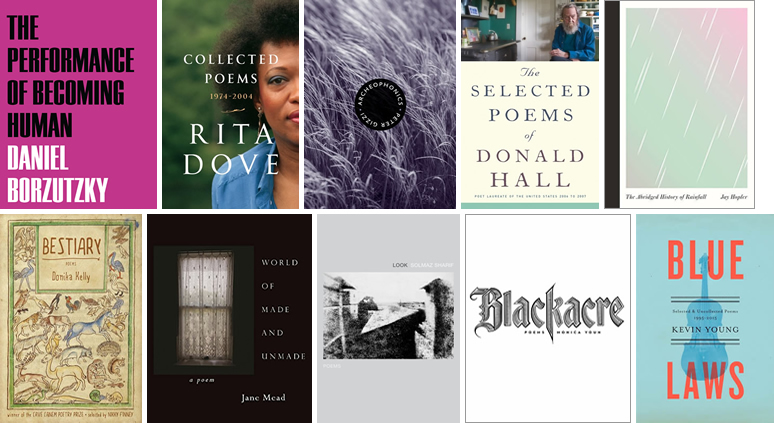 In poetry, the longlist includes Daniel Borzutzky, The Performance of Becoming Human (Brooklyn Arts Press); Rita Dove, Collected Poems 1974–2004 (Norton); Peter Gizzi, Archeophonics (Wesleyan University Press); Donald Hall, The Selected Poems of Donald Hall (Houghton Mifflin Harcourt); Jay Hopler, The Abridged History of Rainfall (McSweeney's); Donika Kelly, Bestiary (Graywolf Press); Jane Mead, World of Made and Unmade (Alice James Books); Solmaz Sharif, Look (Graywolf Press); Monica Youn, Blackacre (Graywolf Press); and Kevin Young, Blue Laws (Knopf).
Mark Bibbins, Jericho Brown, Katie Ford, Joy Harjo, and Tree Swenson judged.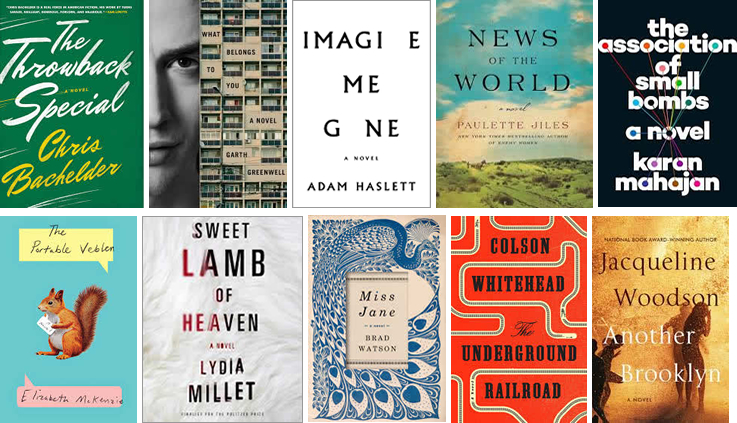 The fiction longlist includes Chris Bachelder, The Throwback Special (Norton); Garth Greenwell, What Belongs to You (Farrar, Straus and Giroux); Adam Haslett, Imagine Me Gone (Little, Brown); Paulette Jiles, News of the World (William Morrow); Karan Mahajan, The Association of Small Bombs (Viking); Elizabeth McKenzie, The Portable Veblen (Penguin Press); Lydia Millet, Sweet Lamb of Heaven (Norton); Brad Watson, Miss Jane (Norton); Colson Whitehead, The Underground Railroad (Doubleday); and Jacqueline Woodson, Another Brooklyn (Amistad). 
James English, Karen Joy Fowler, T. Geronimo Johnson, Julie Otsuka, and Jesmyn Ward judged.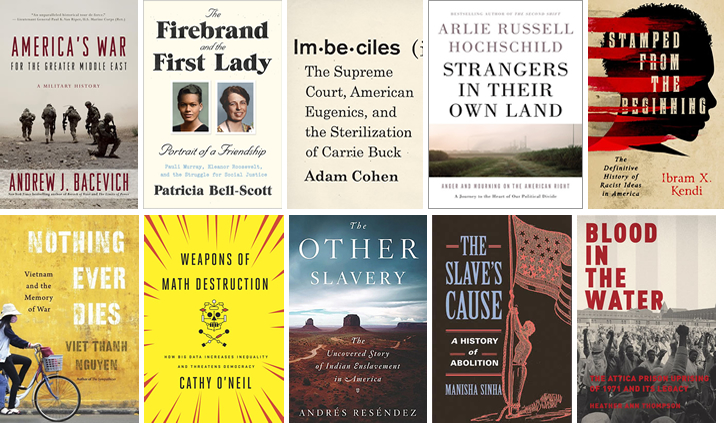 The longlist in nonfiction includes Andrew J. Bacevich, America's War for the Greater Middle East: A Military History (Random House); Patricia Bell-Scott, The Firebrand and the First Lady: Portrait of a Friendship: Pauli Murray, Eleanor Roosevelt, and the Struggle for Social Justice (Knopf); Adam Cohen, Imbeciles: The Supreme Court, American Eugenics, and the Sterilization of Carrie Buck (Penguin Press); Arlie Russell Hochschild, Strangers in Their Own Land: Anger and Mourning on the American Right (The New Press); Ibram X. Kendi, Stamped From the Beginning: The Definitive History of Racist Ideas in America (Nation Books); Viet Thanh Nguyen, Nothing Ever Dies: Vietnam and the Memory of War (Harvard University Press); Cathy O'Neil, Weapons of Math Destruction: How Big Data Increases Inequality and Threatens Democracy (Crown Publishing Group); Andrés Reséndez, The Other Slavery: The Uncovered Story of Indian Enslavement in America (Houghton Mifflin Harcourt); Manisha Sinha, The Slave's Cause: A History of Abolition (Yale University Press); and Heather Ann Thompson, Blood in the Water: The Attica Prison Uprising of 1971 and Its Legacy (Pantheon Books).
Cynthia Barnett, Masha Gessen, Greg Grandin, Melissa Harris-Perry, and Ronald Rosbottom judged. 
Visit the National Book Foundation website for more information about the writers and judges, and to see the longlist in the category of young people's literature.
The shortlists—which will include five finalists in each category—will be announced on October 13; the winners will be named at the foundation's annual awards ceremony in New York City on November 16. Winners will receive $10,000; shortlisted authors will receive $1,000.