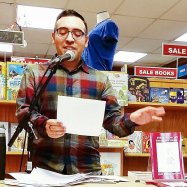 Publications and Prizes
Books:
Everything We Think We Hear
,
Small Fires
(
FutureCycle Press
,
2017
)
,
Until We Are Level Again
(
Mongrel Empire Press
,
2018
)
Anthologies:
desde Hong Kong: Poets in conversation with Octavio Paz
,
Goodbye Mexico: Poems of Remembrance
(
Texas Review Press
,
2015
)
,
Turn: an anthology
(
Uttered Chaos Press
,
2013
)
Chapbooks:
Corpus Christi Octaves
,
Naos
(
Right Hand Pointing
,
2014
)
,
Naos Explains Everything Via Crumbs
(
Right Hand Pointing
,
2017
)
,
Reasons (not) to Dance
(
FutureCycle Press
,
2015
)
,
The Book of Flight
,
The Divorce Suite
(
Red Bird Chapbooks
,
2016
)
,
The Wall
(
Tiger's Eye Press
,
2012
)
Prizes Won:
2015 RHINO Poetry's Editor's Prize: "Joe"
Reviews, Recordings, and Interviews
work_excerpt:
(Don't Look Now I Might Be Mexican by José Angel Araguz) That was the title of the book in my dream. I was on the cover, black hair slicked back into grooves, like a record with sunlight needling off. The Mexican flag lay across my chest in a slant, slung over my shoulder like I had won a contest. I had on a blue blazer, khaki slacks, and yellow shoes. I hear the Colombian girl I work with say: You look dressed to ask for a loan. Ready to get that taco truck? No, I am here to tell people about eighteen-wheelers, families as cargo, caught, stunned to have to go back. ¿Que te crees? I want to tell about La Llorona by the side of a river so distraught from losing her child she became a myth. Why the banana shoes then? Not banana: my feet are the color between stop and go. Is that why you're not smiling? I look back at the photo, see my head hanging over the green, white, and red. Is it shame or defeat that radiates like sunlight at my feet? I could be La Malinche. I could be my father with a son he threw into the ocean. I could be my mother with a son of postcards and phone calls. Did I say it right or are those shoes made of straw, am I to be heretic in this crusade of borders and kin? Your ghosts are women crying over dead children? Isn't that everyone? I tell her there is no river deep enough to slake the thirst of a land too dry for neighbors. She laughs. It's raining, it's always raining. When rain hits a river, all it does is disappear.
Last updated: Jul 15, 2018