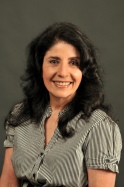 Western Michigan University
1903 W Michigan Ave,
Kalamazoo,
MI
49008
Publications and Prizes
Books:
Flying Carpets
(
Interlink Publishing Group
,
2013
)
,
Tea in Heliopolis
,
Under Brushstrokes
Prizes Won:
Hedy Habra's collection of poetry, Tea in Heliopolis, won the 2014 USA Best Book Award for Poetry and was among four finalists for the International Book Award for Poetry. Her second collection of poetry, Under Brushstrokes was finalist for the 2015 USA Best Book Awards. Her collection of short fiction, Flying Carpets, won a 2013 Arab American National Book Award's Honorable Mention for Fiction and was finalist for the 2014 Eric Hoffer Award for short fiction and the USA Best Book Award for short fiction. Habra received the All-University Research and Creative Scholar Award and the Doctoral Dissertation Completion Fellowship Award, all from Western Michigan University. She is a recipient of the Nazim Hikmet Poetry Award, the Victoria Urbano Prize for fiction and poetry, Negative Capability's Eve of St Agnes Awards, Linden Lane Magazine Awards, the Rubén Vela Award for her poetry in Spanish, and the Journal Français d'Amérique Award for her poetry in French. Her poetry was finalist for Nimrod's Pablo Neruda Award and won honorable mention for the Tiferet Literary Journal Poetry Award.
Personal Favorites
What I'm Reading Now:
Colorless Tsukuru Tazaki
by
,
The Passion of the Western Mind
by
,
The Museum of Innocence
by
,
,
Reviews, Recordings, and Interviews
More Information
Listed as:
Fiction Writer, Poet
Fluent in:
Arabic, French, Italian, Spanish
Last updated: Apr 25, 2016