In October, Poets & Writers supported readings by several writers at apexart in New York City. Project director Marie Burns blogs about the unique Double Take: Writers Reading Series.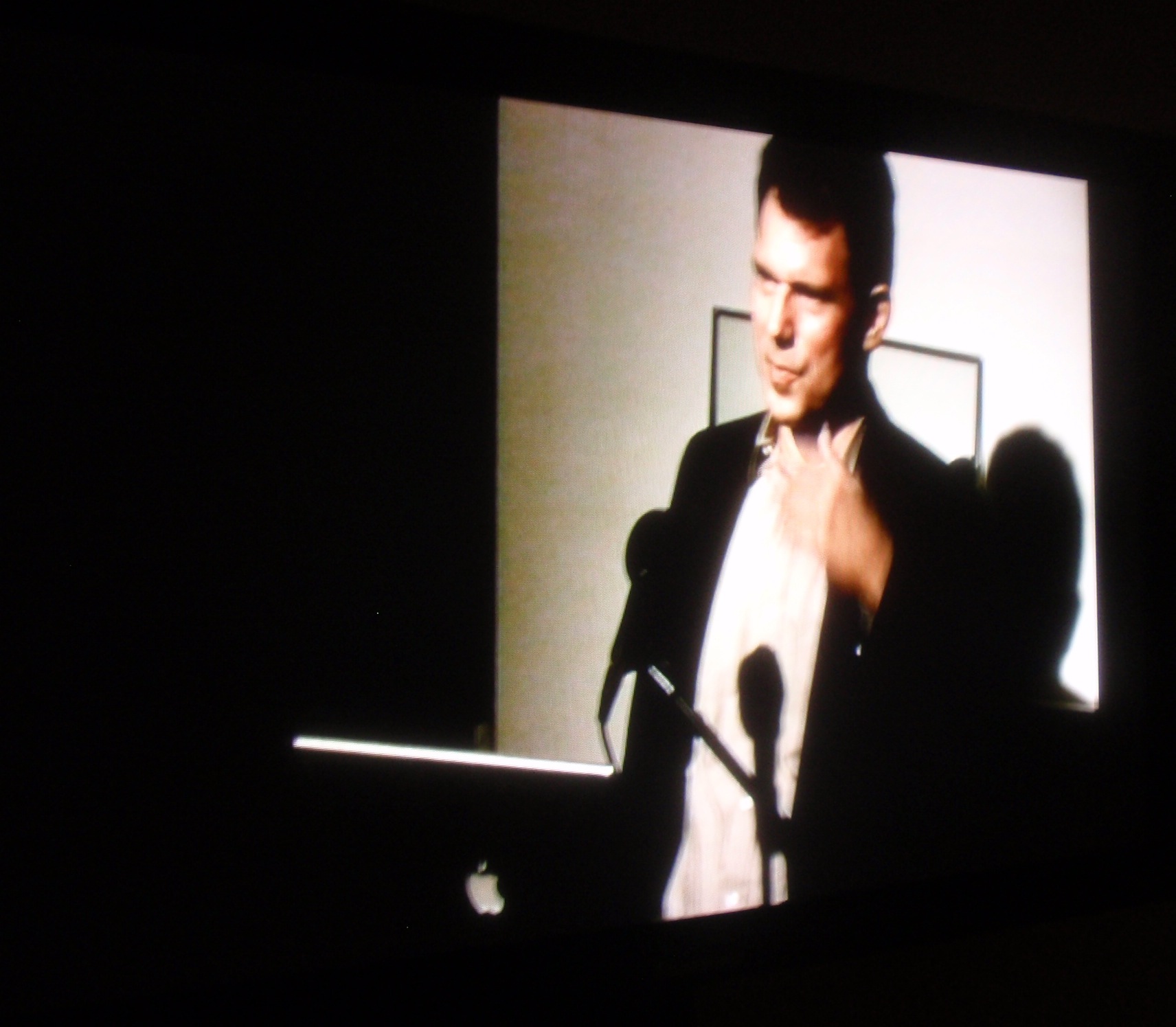 Author and Bookforum editor Albert Mobilio organizes apexart's Double Take: Writers Reading Series. Each season, participants are tasked with the same assignment: Select a partner, reflect upon a shared experience, and produce creative responses—essays, stories, poems—inspired by that topic. Both participants are then invited to read what they've written back to back, showing just how different perception and prose can be.

Earlier this month, with generous funding from Poets & Writers, Inc., apexart hosted two Double Take readings. As the crowd packed into apexart's lower Manhattan gallery, they listened to Library of America editor in chief Geoffrey O'Brien and his writing partner B. Kite describe the twisted plot of a futuristic adventure film without ever disclosing the film's name. Rather than reflect upon an experience the pair had already shared, they decided to watch this new movie separately and write without comparing notes. The audience was captivated by the delivery of each essay as they followed the exciting narration of a sci-fi thriller.

Vijay Seshadri, the Michele Tolela Myers Professor of Writing at Sarah Lawrence College, and his writing partner, Rachel Cohen, focused on a gallery-hopping hobby they haven't been able to enjoy since Rachel moved from New York to Boston. Their friendship stemmed from a shared love of art history, and Vijay wrote specifically about the Museum of Modern Art's 2011 De Kooning Retrospective. Sharing past museum anecdotes, Vijay described how he wished his friend Rachel had been around to wander the galleries with him on one of his seven visits to the exhibition. His essay and poems were a lovely ode to their friendship and to their shared love of culture.

During our second reading of the season, we heard from Nelly Reifler and Cathy Park Hong as they imagined futuristic surveillance technologies. Nelly wrote a product summary for a newly released mindreading app with the capacity to track streams of thought while scanning the user's subconscious and the subconscious of others in their memory. The app could explore hopes, worries, and fantasies while recalling moments as image data. Her story noted all of the app's "benefits" including the app's ability to reevaluate all contributing sides of a story in painstaking detail. Most audience members were relieved they weren't due for an upgraded OS anytime soon.

Continuing this theme of prying into personal lives, we heard from Chris Sorrentino, a core faculty member at the Unterberg Poetry Center of the 92nd Street Y, and Andrew Hultkrans, on one of history's most notorious patrons of surveillance. Before delving into the complex character of Richard Nixon and discussing his place in history, Chris and Andrew screened a series of political advertisements from Nixon's 1968 campaign to share with the audience. The late Sixties were a troubled and turbulent time, and each campaign ad was more intense than the next, ending with the ominous slogan, "This time vote like your whole world depended on it." The campaign clips set the stage for the Nixon Double Take. While discussing egos and opposing truths in politics, the audience couldn't help but think of the government shutdown and that maybe next time, they should vote like their whole world depended on it.
Photo: Chris Sorrentino discusses Nixon.

Support for Readings/Workshops in New York City is provided, in part, by public funds from the New York State Council on the Arts, and the Department of Cultural Affairs, with additional support from the Louis & Anne Abrons Foundation, the Axe-Houghton Foundation, the A.K. Starr Charitable Trust, and Friends of Poets & Writers.