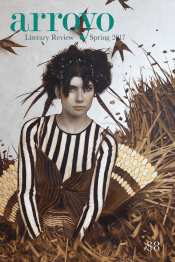 Genres Published:
Poetry, Fiction, Creative Nonfiction
Accepts Electronic Submissions:
Accepts Simultaneous Submissions:
Accepts Unsolicited Submissions:
Editorial Focus
Arroyo Literary Review is a print-based publication produced annually by students and alumni of California State University, East Bay. Each issue reflects the creative diversity found in the San Francisco Bay Area literary scene, while bringing together material from an international array of poets, writers, and artists.
Tips From the Editor
Please view our Submission Guidelines to learn more.
Contact Information
Emilie White and Katrina Wedding, Editors
Dept. of English, MB 2579
Last updated: Feb 17, 2017