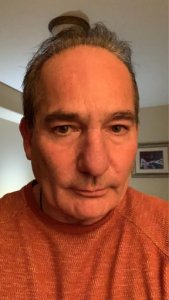 In uncertain times people turn to uncertain means. My work of poetry and art, of fables and philosophies, is aimed at the pandemic of crisis anxiety so many of us are going through right now in our daily lives and in our inner spaces. 
We are all of us and each of us, in this together.  
The sciences provide remedies, but so do the arts.  The ancient Egyptians wrote curative words on fragments of papyrus to feed their burnt ashes to the afflicted. Lacking morphine, Walt Whitman read verses to fallen soldiers on the battlefields of the first Civil War.  At their best, the right words are more than therapeutic, they can be curative. My writing is an attempt to emulate these rituals in administrating remedies for living in these times of crisis, in living with uncertainty. 
Graphic Poetry Collection  IS SHE AVAILABLE? (Chameleon Publishing, 2015)
Latest Collection:  TAKE A DEEP BREATH – Living With Uncertainty  (Chameleon Publishing, 2021)
"Igor takes you into the guts of the pandemic and gives you a tour of the struggles and trials of the everyday environment of the virus that is stalking this dystopian pandemic world of the year 2020. Wide-ranging, he takes you from trans-global to the nightly news of the day that is rocketing past at roller coaster speed, pure emotive emotions so personal that it makes you sit back and wonder at the writing here and what you have just read". 
– Chris Vannoy - US Beat Poet Laureate 2019
Location:
San Diego,
CA
United States
California
Genres:
Creative Nonfiction, Experimental, Formal Poetry, Graphic/Illustrated, Healing/Health, Literary Fiction, Poetry, Political, Religious/Spiritual, Speculative Fiction, Visual Poetry
My publishing/workshop experience:
Published in literary journal, Published a book, Have workshop experience
How I choose to identify myself:
Languages I write or speak in:
To learn more about me, visit: