Zach Dodson is the cofounder of Featherproof Books, an independent publisher of fiction based in Chicago. His hybrid typo/graphic novel, boring boring boring boring boring
boring boring, came out in 2008 under the nom de plume Zach Plague.

Thinking of literary places in Chicago invites nostalgia. For this roundup I was tempted to fall back on some old clichés, to ride Stuart Dybek's El, or trace the footsteps of Nelson Algren or Studs Terkel as they canvassed seedy neighborhoods for stories. But these mythologies really have nothing to do with what's going on in the Chicago lit world these days, so instead I asked myself: Where do I experience literary Chicago? The answer: mostly bars. Other writers might do the same—drinking with friends and rambling about books for hours. But in Chicago, bars are also the settings for many of the city's best readings. The number of dynamic series is now so large it's hard to keep track. When readings started to slant toward entertainment (a backlash against "boring readings") a pressure cooker was created here, and series began to employ varied themes and devices, all meant to ensure that attendees of readings in Chicago have fun. So I thought I'd take a look at where this fun takes place, a pub crawl of the Chicago literary landscape, with a few stopovers along the way.
[2]
Reading Series and Venues
The Hideout [3] (1354 West Wabansia Avenue) has been a longtime host to some of the most raucous literary energy in Chicago. The bar is appropriately named, tucked back in an industrial district next to a truck parking lot, and in an area so devoid of life you might think anyone who takes you back there intends something sinister. But, as it turns out, this is the perfect place to throw a party. The Dollar Store Show [4] was born here in 2004, and, on a monthly basis, performers from the improv enclave across town, and local authors such as James Kennedy, Dave Awl, and Elizabeth Crane, are challenged to write a story based on a "piece of crap" purchased from a local dollar store. Jonathan Messinger, who cofounded Featherproof Books with me in 2005, also founded this series. The Dollar Store series has been so successful that its format has been picked up by many other series also hosted by the bar: Ian Belknap's Write Club [5], a monthly literary brawl pits two writers on opposing themes (for example, Mind vs. Body or Fight vs. Flight) in a boxing-style match-up; or Shame That Tune [6], from Brian Costello, author ofThe Enchanters vs. Sprawlburg Springs (Featherproof Books, 2006), and Abraham Levitan, frontman for the band Baby Teeth, where writers read their most embarrassing stories set to music.
Quickies [7], founded in 2008, has the best premise for a reading series I've ever come across: short. Readers at this bimonthly have just four minutes to read a complete work of prose before the whistle blows, and they are yanked offstage. This yields tight, compressed storytelling, lots of great one-liners, and plenty of time for drinks afterward. It all takes place at the InnertownPub (1935 West Thomas Street), a neighborhood bar in the Ukrainian Village stuffed with strange decorations—from Elvis velvets to owl lamps to stained glass desert light boxes, bizarre Americana is in overdrive here. It's the perfect setting for cohosts Lindsay Hunter, with her dirty Southern gothic one-offs, and Mary Hamilton—who recently decamped to Los Angeles [8]—with pointed flashes of brilliance such as "It Is True That Me and Theodore Swallowed Pop Rocks and Pepsi Cola and Now We Are Dead." They stack the lineup with the best of Chicago's large supply of readers and performers mixed with a healthy dose of out-of-town stars.
Among your other boozy choices are the RUI: Reading Under the Influence [9] series—"because everyone needs a literary hangover"—and the Reconstruction Room [10] series, a "monthly theme party with art, literature, and performance," which have both secured monthly spots in the back rooms of local taverns. RUI, which asks participants to take shots of alcohol before, during, and after the readings and to take a pub quiz on the literary theme of the month, has been turning a packed room at Sheffield's (3258 North Sheffield Avenue)—a great place for barbeque in the beer garden—into a slurring, hilarious mess for the last four years. Reconstruction Room, founded in 2004 by Erin Teegarden, takes over the back room of the Black Rock (3614 NorthDamen Avenue), which approximates the feel of a living room–style salon. (There's even a giant fireplace.) Guests—past performers include Claire Zulkey, Amy Guth, and John McNally—are encouraged to bring experiential, performative works built around a monthly theme.
The Encyclopedia Show [11], cofounded in 2008 by poets Shanny Jean Maney and Robbie Q. Telfer, is a twist on another tried and tired medium: slam poetry. Though they hook some of the best-known performers of that genre—HBO Def Poets Tim Stafford and Joel Chmara among them—the Encyclopedia Show revels in modest nerdery. Each month Maney and Telfer pick a new topic—past subjects have included punctuation, the periodic table of elements, and the Village of Schaumburg—and dole out encyclopedia-article assignments to a diverse group of novice and notable talents. Backed by a house band, the Encartagans, and a fact-checker, who is on hand to weigh in on veracity, performers read the new entries they created for each topic. The show takes place in the Vittum Theatre (1012 North Noble Street), which gives it an appropriate air of staginess—grand and silly. Always able to pack the house, the Encyclopedia Show has been so successful it has spawned offshoots in a host of other cities.
So You Think You Have Nerves of Steel? [12]—mounted by Todd Dills, editor of the2ndhand magazine, an institution of the Chicago underground, and Another Chicago Magazine's editor in chief Jacob Knabb at the Hungry Brain (2319 West Belmont Avenue)—challenges writers, actors, and musicians "to draw upon improvisational skills and showmanship to create a performance that transcends the written page." Over the past year the series has featured performers such as Patrick Somerville, author of The Cradle (Little Brown, 2009), Kyle Beachy, author of The Slide (Dial, 2009), and Natalie Edwards.
The Sunday Night Sex Show [13], hosted by Allen Makere and Robyn Pennacchia, takes place in the appropriately swanky Burlington bar (3425 West Fullerton Avenue) in the Logan Square neighborhood. The last Sunday of every month all ears are turned to the raunchy confessions that spill from the stage.
There are intimate, toned-down readings too. At the almost-decade-long and venerable Danny's Tavern Reading Series [14] (1951 West Dickens Avenue) readers—recent performers include Matthew Zapruder, author of Come On All You Ghosts (Copper Canyon Press, 2010) and Eileen Myles, author of Inferno (a poet's novel) (OR Books, 2010)—sit cross-legged on the floor among audience members surrounded by candlelight. The Parlor [15] (1511 North Milwaukee Avenue)—founded in 2008 and hosted by writer Terri Griffith and the Green Lantern Press's Caroline Picard, who invite one author to read an extended work for thirty minutes and field questions from a small crowd lounging in Picard's living room—has featured local writers such as Joe Meno, author of The Great Perhaps (W. W. Norton, 2009); Adam Levin, author of The Instructions (McSweeney's Books, 2010), and Jac Jemc, author of the forthcoming My Only Wife (Dzanc Books, 2012). It's the perfect pretension-free way to get to know an author. The roving Dil Pickle Club [16] takes on a new neighborhood every month. Reestablished in 2010, it's a revival of the old Chicago political and debate club from the 1920s put on by a host of the city's new intellectuals—Mairead Case, Emerson Dameron, Paul Durica, Rob Funderburk, Fred Sasaki, and Nell Taylor—who invite writers, and other creative types, to be presenters. Past sessions include a discussion with author Peggy Macnamara on her twenty-year career painting birds and insects in watercolor and a display of how best to throw a punch by writer and former amateur boxer Bill Hillmann. They've even revived the old motto: "Step High, Stoop Low, Leave Your Dignity Outside."
One of my favorite bars, located in the up-and-coming Logan Square neighborhood, the Whistler (2421 North Milwaukee Avenue), is home to the monthly Orange Alert [17] series, founded in 2009 by Jason Behrends of the eponymous press. During readings—past participants include Tim Jones-Yelvington (who is known as the Lady Gaga of the Chicago lit scene) and Mid-American Review's Michael Czyzniejewski—dapper bartender Paul McGee caters to a range of literary types by offering handcrafted, old-fashioned cocktails alongside two-dollar Pabst Blue Ribbon.
Overwhelmed yet? I'll tell you where to hide. Ray's Tap Reading Series [18], founded in 2008 by writer and playwright Chris Bower, takes place on a "semi-once-in-a-while" basis at a tucked away bar (3049 North Kimball Avenue) of the same name. The atmosphere is dirty, smoky, and crammed, but you are guaranteed to be elbow to elbow with twenty of Chicago's best writers and performers doing what they all do best: entertaining the hell out of one another, then getting drunk and talking books late into the night—the Chicago literary life in a nutshell. The gothic shadow plays of Jill Summers and Susie Kirkwood are a particular delight.
Bookstores
Quimby's [19], located at 1854 West North Avenue, is a print fetishist's dream. Or nightmare: It's impossible to leave the store without abandoning some fascinating finds on their overstuffed shelves. Managers Liz Mason and Edie Fake, of the suburb graphic series Gaylord Phoenix, keep them stocked with literary magazines and handmade zines, small press books, graphic novels, and art magazines. The store also hosts a handful of monthly readings. Whether you're there for a reading or browsing the shelves, be warned: If you want to come out with any cash, you'll need to go in with your hands tied behind your back.
Stop Smiling [20], the once venerable long-form magazine turned book imprint, has an intimate space at 1371 North Milwaukee Avenue, not far from Quimby's in the heart of Wicker Park. Relentlessly intellectual, J. C. Gabel and Sybil Perez provide the perfect counterweight to Quimby's goofy vibe. The guests they bring—Dennis Loy Johnson, Aleksandar Hemon, Alex Ross, Sam Weller, and the editors of MAKE: A Chicago Literary Magazine among them—come ready to debate anything from politics to vocoders. The invite-only events make it feel like a secret club, but it just takes an e-mail (info@stopsmilingonline.com) to get on the list.
But if you're looking to line up for that big-time author's signature, best head to the Book Cellar [21] (4736-38 North Lincoln Avenue). This local favorite is everything you'd want in a neighborhood bookstore. On a pedestrian street tucked in the Lincoln Park neighborhood, owner Suzy Takacs has done everything right. Big comfy chairs to expert staff recommendations to an in-store café (alcohol! with books!)—only a book lover could lay such an alluring trap. The store is also a great supporter of Chicago literary life, from hosting wine-fueled book clubs to reading series like Essay Fiesta, a nonfiction reading series benefiting various organizations such as 826CHI, the Howard Brown Health Center, to the ever-popular Local Author Night, which has featured Keir Graff, Achy Obejas, J. Adams Oaks, and Gina Frangello.
Libraries
Founded in 1887, the Newberry Library [22] (60 West Walton Street) is old, weird, and beautiful, and the setting of local author Audrey Niffenegger's runaway hit, The Time Traveler's Wife(Harcourt, 2003). It is privately funded, yet open to the public and its collections house 1.5 million books and 500,000 historic maps. You could spend hours browsing through medieval illuminated manuscripts, searching for long-lost relatives, or reading the book made of human skin. But if you'd rather be social, the library also offers lots of classes, events, and exhibitions—particularly noteworthy are the annual used book sale or the Bughouse Square Debates—that allow for mingling with other bibliophiles.
The grandiose Harold Washington Library Center [23] (400 South State Street), the main branch of the Chicago Public Library, is the most Harry Potter-esque building I've ever seen outside of a Harry Potter film. Art and sculpture are displayed attractively throughout, and I loved a recent mini-exhibit dedicated to Daniel Burnham's 1909 plan of Chicago. They have expansive stacks, great for researching almost any topic, and a popular section of music and movie selections. The library's One Book, One Chicago program, which encourages a citywide book club, most recently read Neil Gaiman's Neverwhere.
My pick for favorite library, however, goes to the Chicago Underground Library [24] (formally at 621 West Belmont Avenue). Nell Taylor collects zines, local publications, and obscure ephemera and makes them available to the public. (The recent Chicago blizzard decimated the library's former home, so until Taylor can reset he's been doing Pop Up Libraries, temporary exhibitions curated according to the space in which they appear.) Recent showings have been at the Small Press and Comics Symposium and the Chicago Zine Fest. This locally focused library also holds great events. Literal book launches (with a catapult), science fairs based on obscurity, and 'loud library' days are just a few examples. Look for them at Version Fest or this year's Printers' Ball, an annual celebration of print culture in Chicago featuring tons of journals, magazines, and more free for the taking.
Finished my mini-tour of the Chicago literary scene? Time to go home, sober up, and read some books—don't even get me started on Chicago-based book recommendations.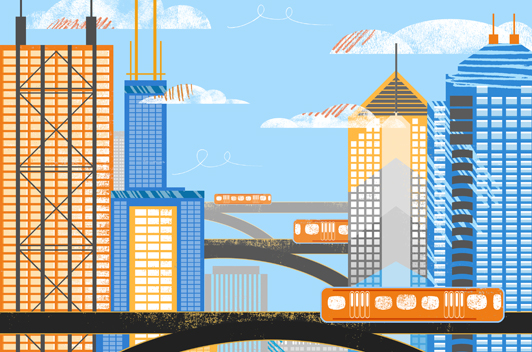 Credit: Nina Goffi [25]