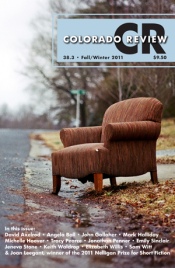 Circulation:
1,000 to 2,500
Genres Published:
Poetry, Fiction, Creative Nonfiction
Formats:
E-publication, Print
Reading Period:
Aug 1
-
Apr 30
Reporting Time:
Less than 3 months
Accepts Electronic Submissions:
Yes
Accepts Simultaneous Submissions:
Yes
Accepts Unsolicited Submissions:
Yes
Editorial Focus
Colorado Review's only commitment is to the publication of serious poetry, fiction, and nonfiction. We do not publish genre fiction nor do we subscribe to a particular literary philosophy or school of poetry or fiction. We are determinedly eclectic and intend to stay that way. Note that we read nonfiction year-round.
Tips From the Editor
Please be familiar with the journal before submitting. Successful writers are prolific readers. The simple cover letter is the best cover letter.
Contact Information
Stephanie G'Schwind, Editor
Colorado State University
Fort Collins, CO 80523-9105
Please note: The information provided in this database is provided by the magazines listed in it.
Last updated: March 10, 2015