The University of Georgia Press has announced that poet Christopher Salerno of Caldwell, New Jersey, has won the inaugural Georgia Poetry Prize for his collection Sun & Urn. Salerno will receive a cash award of $1,000 and publication by the University of Georgia Press in February 2017. He will also be invited to read his work at the prize's sponsoring institutions—the University of Georgia, Georgia Tech, and Georgia State University—and will receive an additional $1,000, as well as travel expenses, for each reading.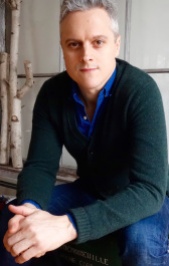 Christopher Salerno is the author of three previous poetry collections: Whirligig (Spuyten Duyvil Press, 2006); Minimum Heroic (Mississippi Review Press, 2010), which won the 2011 Mississippi Review Award; and ATM (Georgetown Review Press, 2014), which was selected by poet D. A. Powell for the 2014 Georgetown Review Poetry Prize. Salerno currently serves as associate professor in the creative writing and MFA programs at William Paterson University in New Jersey.
Thomas Lux, the final judge of this year's award, said of Salerno's manuscript, "Christopher Salerno's Sun & Urn is a highly accomplished (he has learned his trade!), a madly imaginative, and, ultimately, a brilliant and deeply human book. Read it, please, thrice!"
The Georgia Poetry Prize is a national competition established in 2015 to celebrate poetic excellence. The prize is to be administered annually; submissions for next year's prize will be accepted from October 1 to November 30. Visit the website for submission guidelines and more information.