Submissions are currently open for the Chicago Tribune's Nelson Algren Literary Awards. The annual prize is given for a short story written by a U.S. writer. The winner will receive $3,500 and possible publication in the Chicago Tribune's weekly literary supplement, Printers Row Journal. Four finalists will each receive $1,000, and five runners-up will each receive $500.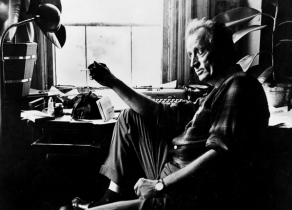 Using the online submission system, submit a story of up to 8,000 words by Saturday, January 31. There is no entry fee. A panel of fiction writers and literary professionals will judge; the winners will be announced by June 1.
Ben Hoffman won the 2014 prize for his story "This Will All Be Over Soon," about a man coping with the kidnapping of his wife. After four rounds of judging, judges Yiyun Li, Peter Orner, and Roxana Robinson selected Hoffman's story from twenty-four hundred entries, almost double the number of entries in 2013. Other recent winners include Erika Schmidt, Jeremy T. Wilson, and Billy Lombardo.
Established in 1981 by Chicago Magazine and administered by the Chicago Tribune since 1986, the Nelson Algren Short Story Award has helped launch the careers of writers such as Stuart Dybek, Kim Edwards, and Louise Erdrich. The prize is named after American fiction writer Nelson Algren (1909–1981), who wrote several novels including The Man With the Golden Arm (1949) and A Walk on the Wild Side (1956).
Photo: Nelson Algren (credit Stephen Deutch/Chicago Tribune)