On April 20, Poets & Writers hosted the fourth annual Connecting Cultures reading at La Casa Azul Bookstore in East Harlem. The event brought together poets from a number of NYC-based organizations supported by Poets & Writers' Readings/Workshops program. P&W Advertising Assistant Katie Bloom writes about the event.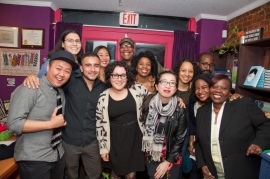 Though they vary in specific goals and programs (and I encourage you to take a look at their websites), the organizations that participated in Connecting Cultures share a common mission: to celebrate the work of poets from historically marginalized communities, and to help these poets thrive. Cave Canem supports African American poets, Kundiman is dedicated to Asian American poets, CantoMundo supports Latina/o poets, and the Calypso Muse Reading Series was created for Caribbean poets. (You can read an R/W blog post by Calypso Muse founder Cheryl Boyce Taylor, here.)

Poets and audience members packed the basement of La Casa Azul Bookstore, filling every chair and spilling onto the staircase. In addition to reading original work, each poet read a poem by a writer from a different cultural lineage. It was one of the warmest, most celebratory readings I've ever attended, a night of appreciation and earnest participation. The audience murmured approval and applauded after each poem; several poets gently teased poet Ekere Tallie's two young daughters about the more grown-up content—primarily, heartbreak—of the work being presented. (The girls eventually headed upstairs to check out the expansive selection of children's books.)

Other poems were less personal, more political. A month later, I'm still thinking about a poem by Javier Zamora from CantoMundo about the devastation caused by American drone strikes. Despite the sometimes sobering content, the basement was joyful. After the reading, guests headed upstairs to talk over wine and guacamole. (You can take a look at photos from the event on our Facebook page, here.)

La Casa Azul was a fitting venue. The inside of the bookstore feels like southern California: walls painted bright, summery colors, the titles on the shelves both in English and Spanish. The owner and founder of La Casa Azul, Aurora Anaya-Cerda, is from Los Angeles, but has made a home in East Harlem. Colorlines.com features a profile about Anaya-Cerda and the community-driven funding of the bookstore here.

That night, I headed to the subway feeling grateful to the poets, who reminded us that literature can speak across boundaries, touching the universal through the highly specific and personal—and grateful to Kundiman, CantoMundo, Calypso Muse, and Cave Canem for providing crucial support to these and other gifted writers.
Photo: (Front row, left to right) Kit Yan, Javier Zamora, Diana Marie Delgado, Muriel Leung, Ekere Tallie, and Cheryl Boyce-Taylor. (Back row, left to right) Benjamin Garcia, Alison Roh Park, Ed Toney, Idrissa Simmonds, Charan P. Morris, and Tishon Woolcock. Credit: Margarita Corporan.
Support for Readings/Workshops in New York City is provided, in part, by public funds from the New York State Council on the Arts, and the Department of Cultural Affairs, with additional support from the Louis & Anne Abrons Foundation, the Axe-Houghton Foundation, the A.K. Starr Charitable Trust, and Friends of Poets & Writers.